My name is Yogi and I own and run The Moray Honey Company, I inherited 3 hives from my father in  2018 and have become a keeper of the bees expanding year on year to bring to fruition The Moray Honey Company, a fulfilling business my father and I could work on together in his retirement. Sadly COVID-19 has touched everyone since 2020 and sadly took my dad at the beginning of 2021 just before joining me to run the business.
Now my daughter, Thalia, is learning the ropes from a young age and loving being a young beekeeper, helping in all areas from preparing the frames, building hives and looking after the bees.   
We are based near Forres and I have apiaries at home and throughout Morayshire and some surrounding areas to the Highlands.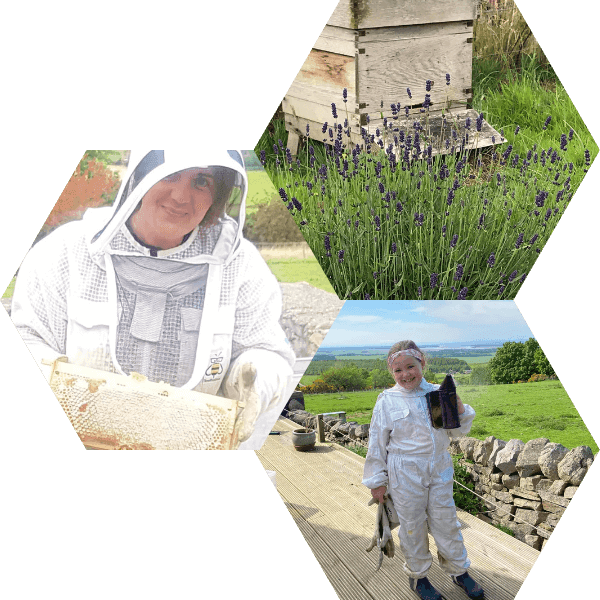 Our Honey is simply hive to jar, as nature intended keeping all the beneficial health properties, aroma and goodness.
FLY & Forage
Honey bees fly up to 3 miles to forage, once they collect the nectar they take it back to the hive where its broken down into simple sugars & stored in the honeycomb.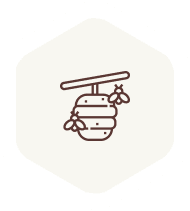 EVAPORATION
With the bees constant fanning of their wings this causes evaporation creating honey. Flavour and colour of the honey depends on the nectar collected by the bees.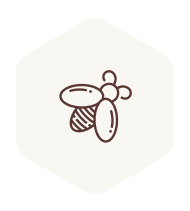 FRAME REMOVAL
Once the honey is capped I remove the frames from the hive, un cap them and place the frame in the extractor, a centrifuge that spins the frames forces the honey out of the comb.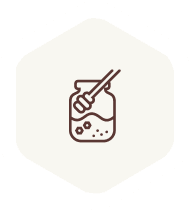 Strain & Package
The honey is then strained to remove remaining wax and other particles and then bottled, labelled and ready for your consumption.

I then clean the wax in preparation for making lip balm and candles.
Useful properties
of honey
Good source of antioxidants
Has antibacterial and antifungal properties
Helps with digestive issues and gut health
Soothes a sore throat
Helps to heal wounds
Boosts immunity
The bees collect nectar from a variety of flora throughout spring and summer months including fruit trees, clover, bramble, lavender, heather, lime trees, willowherb and turn this into honey.  My honey is NOT pasteurized it is from hive to jar passing through a filter, this adds to the aroma flavour and beneficial health properties. Honey can also help hay fever sufferers taken daily to help build up immunity.
I am registered with the moray council as a honey producer and process my products in my honey house at home.
Frequently Asked Questions
Lynn Karen Richards
Absolutely fantastic honey. So smooth and gorgeous taste. Best I have ever tasted, will definitely buy again and the service is quick and fantastic value.
Angela Roy
We have had both honeycomb and heather honey. They are both beautiful, quality honey's that taste just fantastic.
Abigail McCahill
Thank you so much to Yogi and Tim for the unbelievable product! Your honey is the best I've ever tried and I wish you both every success in your new venture. Worth every penny!!x
Janet Scorgie
Supreme quality products. Simply the best tasting local honey!
Tommy Ah
Such a delicious product, great staff and easy fast delivery. You can really taste the quality, so much tastier in the morning than that supermarket stuff! The only problem is my two girls keep climbing the counter top to take finger scoops from the jar! Thanks again!
Mary Harding
Thank you for the swift delivery of my order. Delicious honey , tastes spectacular, what a treat to have! May have to be hidden from visitors! A comb will make a super present too. Love the packaging. With that product you will have great success!x